Our support agents are available via the blue support button on the lower left-hand side of your screen: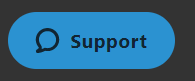 You can still solve your issue in our Customer Success Center by searching for keywords such as "password reset" or "CD."
Next, you will see a list of articles that can help solve your issue. Simply click the link to read the article.
If the articles aren't what you need, you can open a ticket by clicking "Leave us a message" in the chat box and open a ticket.
Also, you can contact our dedicated Customer Support Service team by online chat.
You can contact us by clicking on Contact us on our main support page.
*You will need to enter your email address. A security code will be sent to you. Enter the code and click on Validate. You will then be able to open a request.